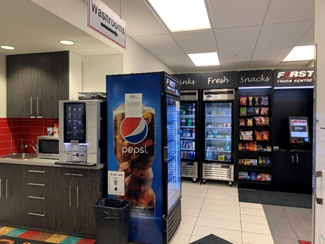 Skipping meals and snacks can leave your team and clients hangry. They simply don't have time to leave for food. Compliment your Coffee break room, common area or lunch room with a mirco market.
So, how do you help them power through the day? Our micro market provides the options they need in a customized retail space.
A micro market is a custom designed vending market or mart with a self-checkout kiosk. Although micro markets may possess the general feel of a small convenience store, they are their own style of marketplace. They offer more products than a vending machine but less than a full grocery mart. A micro market is an unmanned retail space where individuals can purchase food and beverages. To use a micro market, your team member or client simply picks up the food or beverage they wish to purchase and then pays for the items at the intuitive, self-checkout kiosk.
Here is why you will love our different style markets;
Open 24/7 – always have access to snacks and food when it's needed most
Variety – healthy snacks, drinks, fresh food, and sundries keeps everyone fueled
Totally Customized – high-quality fixtures that fit any space
Convenience – quick and easy self-checkout with no cashier needed
Rewards – loyalty programs that support healthy choices
Safety First – temperature-control on refrigerators keep guests safe
Contact us today for more information on our Coffee machines and micro markets.
780.791.0856, or email us at: salesteam@culliganfm.com